The History of Morven Park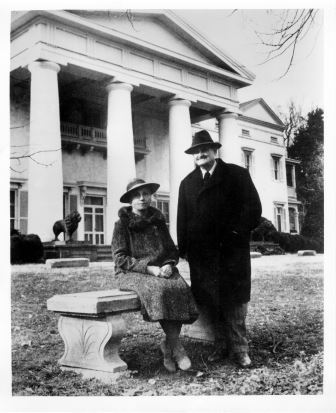 Morven Park first opened to the public in 1967, under the operation of the Westmoreland Davis Memorial Foundation. Marguerite Davis, who with her husband Westmoreland, governor of Virginia during World War I, purchased the property in 1903, established the Foundation in order to preserve their home and its stunning grounds for the benefit of the public. Marguerite owned the estate until her death in 1963.
Morven Park's iconic mansion began as a small fieldstone house, built circa 1780 and expanded upon through the decades until it became the 22-room Greek revival mansion we see today.
For 100 years, Morven Park was the home of the Swann family, beginning in 1800 with Thomas Swann Sr., who served as Attorney General for Washington, D.C.. Before his death, Swann distributed and sold portions of Morven Park to his children, and in 1842, Thomas Swann Jr. purchased his siblings' properties to become sole owner of Morven Park.
Mr. Swann, Jr., made his primary residence in Maryland, keeping Morven Park as his summer retreat. A successful railroad executive, he moved into politics and served as mayor of Baltimore, governor of Maryland and in the U.S. House of Representatives for five terms.
Mary Mercer Swann Carter, Thomas Swann, Jr.'s daughter, inherited Morven Park and she remained its owner until 1898. By the time Westmoreland Davis purchased the estate in 1903, it had changed hands several times, and they became its final private owners. 
For more information about the ownership of Morven Park, click here. For more information on Westmoreland Davis, click here.