Latest News
The Solution Is … You: Speaker Series Addresses What It Means to be a Citizen
Teresa Davenport on 09/05/2013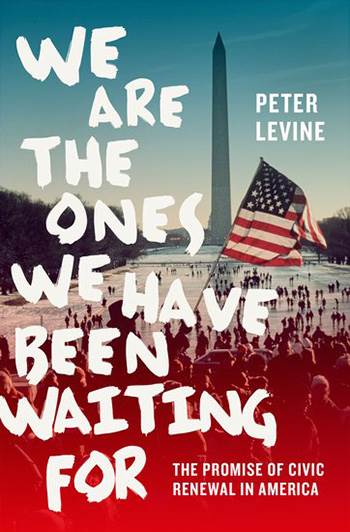 Highlighting this inaugural year of its new CivicsNOW! program, Morven Park, a historic site in Leesburg, Va., hosts Peter Levine, one of the country's most noted speakers on the subject of civic responsibility.
The Distinguished Voices in Civics Speaker Series on Wednesday, Sept. 25, features the author of a brand new book, We Are the Ones We Have Been Waiting For: The Promise of Civic Renewal in America. Amazon.com has called the book "a primer for anyone motivated to help revive our fragile civic life and restore citizens' public role." In it, Levine asserts that an informed and active citizenry offers the best hope to solve community, national, and global problems.
Morven Park, a non-profit organization that hosts educational and recreational programs within its 1,000-acre site, launched its CivicsNOW! program earlier this year to empower people to engage in their democracy and community by teaching the skills, values and knowledge for civil and active civic participation. It reflects the life of the Morven Park's final owner, Westmoreland Davis, who served as Virginia governor 1918-1922.
This first-time event, which begins at 7 p.m., also will honor the organization's first recipient of the Governor Westmoreland Davis Civic Leadership Award, retiring Loudoun County Public Schools Superintendent Edgar B. Hatrick III. This award will be given annually to an individual who, in the tradition of Gov. Davis, demonstrates leadership in expanding effective civic participation among youth and adults.
Hatrick, who retires at the end of the 2013-2014 school year after a 46-year career in Loudoun County Schools, has served as a model of civility and collaboration during his 22 years as Superintendent of Schools, said Morven Park Executive Director Frank Milligan.
Levine, who is the professor of Citizenship and Public Affairs at Tufts University and Director of the Center for Information and Research on Civic Learning and Engagement, will present strategies that each of us can enlist to strengthen our roles as citizens. His presentation will be followed by a book signing, with proceeds from book sales going toward Morven Park's CivicsNOW! program. Tickets for the event are $5 before Sept. 13 and $10 after, available online at www.peterlevine.eventbrite.com.
In addition to the Speaker Series, Morven Park's CivicsNOW! program includes a partnership with Loudoun County Public Schools to augment the 8th grade civics curriculum by involving students in service learning projects, and an initiative called The Kitchen Table, which provides students and adults the tools they need to address controversial issues thoughtfully and respectfully.
Morven Park preserves and advances the ideals of Gov. Westmoreland Davis: civic responsibility, sustainable agriculture, and enhancement of life in rural Virginia. Its educational and recreational programming utilizes the site's 1,000 acres of woodlands, pastures, and open spaces as well as three museums and a sports/equestrian complex. The non-profit organization receives no ongoing support from federal, state, or local governments.