Calendar of Events
19th Century Landscape: A Morven Park Specialty Tour
Saturday, October 13, 2018 12:00 pm - 1:00 pm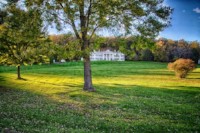 Location:
Morven Park Mansion | 17195 Southern Planter Lane, Leesburg, VA 20176
Description:
Tour the 19th Century Landscape at Morven Park!

Morven Park is over 200 years old and the surviving buildings and landscape can tell us a great deal about our past. Investigate the outbuildings and landscape to uncover Morven Park's 19th century history. Morven Park's Director of Preservation will lead this 60 minute tour and will provide access to locked buildings and share tips on how to read historic buildings and landscapes.

--Participants must wear comfortable walking shoes.
--Tour will proceed rain or shine.
-- Tour will last approximately 60 minutes.
--Cost is $10 for Park Members and $20 for non-members
--SPACE IS LIMITED; REGISTER EARLY TO GUARANTEE ATTENDANCE.
--Questions? Email Events@MorvenPark.org


DID YOU KNOW?
Morven Park members get advance notice about specialty tours and a discount on tickets. Sound good to you? Become a member today! www.MorvenPark.org/Membership
This form stopped accepting submissions on October 13, 2018 12:00 pm EDT.
Contact Information:
Morven Park Special Events Team