Calendar of Events
Armistice Day One Hundred Years Later: Remembering Loudoun in WWI
Sunday, November 11, 2018 10:30 am - 1:00 pm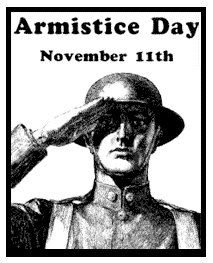 Location:
Loudoun Co. Courthouse | 18 E Market St, Leesburg, VA 20176
Description:
Armistice Day One Hundred Years Later: Remembering Loudoun in WWI

Join us at the Loudoun County Courthouse, 10:30 a.m. - 1:00 p.m., to honor the soldiers who perished during the war. Hear the County Courthouse bells toll, listen to guest speakers, and participate in a poppy-laying ceremony. Morven Park staff will share stories of Virginia's wartime governor, Westmoreland Davis, at 11:00 a.m.