Horse Trials
Morven Park Horse Trials
SPRING: March 30-31, 2019
FALL: October 4-6, 2019

---
2018 FALL HORSE TRIALS COMPETITOR INFO:
Morven Park Fall Horse Trials | Leesburg, Virginia (AREA 2)
Morven Park International Equestrian Center
Event Date: Oct 5 - Oct 7, 2018
To view final results, CLICK HERE.
---
---
---
Morven Park Horse Trials, Carriage Show and Pleasure Drive, Polo in the Park and other equestrian events are all made possible by our generous sponsors! 
Interested in sponsorship opportunities? CLICK HERE to learn more.
Special thanks to these 2018 sponsors: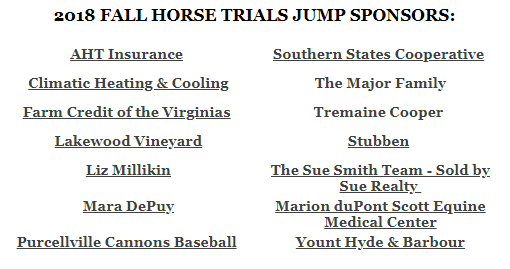 ---
SPECTATOR INFO:
Horse Trials are also known as eventing, which is the triathlon of horse sports and is the most exacting, exciting and fulfilling of all the equestrian sports. It is one of the fastest growing equestrian pursuits in the world – and one in which riders of all ages and abilities can compete.
The ultimate challenge for horse and rider, eventing tests their partnership and athletic prowess in three diverse and demanding disciplines:
The grace and harmony of dressage.
The rigors and thrills of cross-country.
The power and pageantry of show jumping.
---