Polo in the Park
Polo in the Park - 2018 Season Is Here!
Morven Park will launch a second season of Polo in the Park in 2018 at the Morven Park International Equestrian Center. Arena polo matches, picnicking and dancing will take place on Saturday nights in June, July, and August! 
Car passes are $35 when bought in advance online and are $40 (cash only) at the gate.   
*There are no individual tickets for this event.
*Purchase of a car pass allows for you and all occupants of your vehicle to attend Polo in the Park.
*If you plan to bring a passenger van or vehicle that holds 10 or more people, please email Polo@MorvenPark.org for a group rate. 

To purchase a car pass, simply click on a date from the list below.
To purchase a Polo in the Park Season Pass, CLICK HERE.
Tailgate spots and rail boxes are also for sale. Email Polo@MorvenPark.org to check availability. 
 
2018 Polo in the Park Dates are:
Saturday, June 30             Saturday, August 4
Saturday, July 7                Saturday, August 11
Saturday, July 14              Saturday, August 18
If needed, August 25th and September 1st will serve as rain dates. 
New for 2018! Polo in the Park Season Passes are available for $250 --> More than a 20% discount off of the gate admission! CLICK HERE to purchase.

Questions? Email us at Polo@MorvenPark.org 
Never been to Polo in the Park? Here's what to expect:
Each night of the season will feature two matches, with one starting at 7 p.m. and the other starting at 8:30 p.m. Gates will open for spectators at 6 p.m.
Spectators are encouraged to bring picnic baskets and blankets onto the terraced viewing area next to the riding arena.
Guests may also bring their own beverage of choice to enjoy at the polo matches.
We will provide dance music in the pavilion tent immediately following the final polo match each night.
New this year, Morven Park has partnered with Roots 657 restaurant to serve favorites from its menu, including pulled pork and burgers, every night of polo. Another popular Loudoun County restaurant, King Street Oyster Bar, will bring its Oyster Truck to the Park for five nights of polo.
Stone Tower Winery — the Official Wine Sponsor of Polo in the Park — will return to offer wine for sale by the glass or bottle.
Please follow Morven Park on Facebook for updates on weekly food vendors, menus, and special dessert offerings.

Interested in 2018 sponsorship opportunities? CLICK HERE for details or email StrategicPartnerships@MorvenPark.org.
---
Thanks to our 2018 sponsors: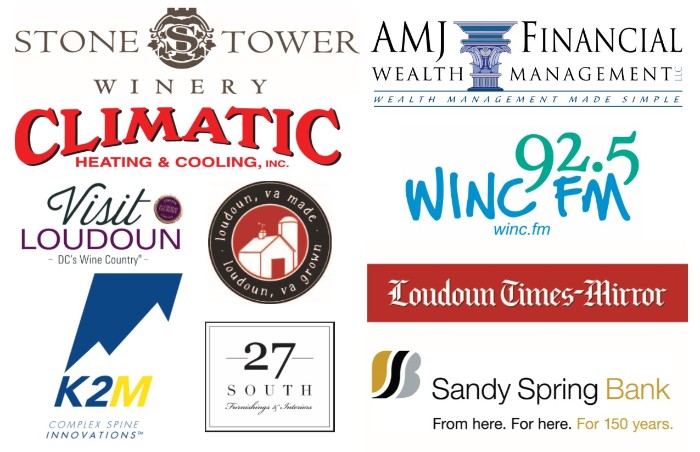 GOLD SPONSORS:
AMJ Financial
Climatic Heating & Cooling
K2M
Stone Tower Winery

WE WOULD ALSO LIKE TO THANK:
27 South
La Villa Roma Restaurant & Pizzeria
Loudoun County Economic Development
Loudoun Times-Mirror
Sandy Spring Bank
Virginia Tech Marion duPont Scott Equine Medical Center
Visit Loudoun
WINC 92.5 FM
Interested in becoming a 2018 sponsor?  Email strategicpartnerships@morvenpark.org
Tips for a fun Polo in the Park experience:
Remember to bring a blanket and a picnic dinner. Stone Tower Winery will be on site to sell wine by the bottle or glass, but polo fans may bring the beverage of their choice, too.

Polo in the Park patrons MUST be 21 years of age to consume alcoholic beverages. Alcohol must be consumed within the marked areas. 

Pets are not permitted at Polo in the Park. Service animals are welcome.

Pop-up tents, canopies, sun umbrellas and standing structures of any kind are not permitted.

BBQs, hibachi grills or open flame of any kind are not permitted.

Vaping, smoking, e-cigarettes, and cigars are NOT permitted.

We ask that all polo patrons remove their trash at the end of the evening.

Morven Park reserves the right to refuse entry or eject a spectator should their behavior be deemed disruptive or offensive to other guests.

Polo in the Park ends at 11:00 pm. Please allow enough time to remove your personal property from the grounds and vacate the premises promptly at 11:00 pm.

For questions about accessibility or to request accommodations, please email Polo@MorvenPark.org or call 703.777.2414 x6618. 72-hours advance notice of need for accommodations is requested.

Polo in the Park may be canceled due to inclement weather. A cancellation decision will be posted on PolointhePark.org by 4:00 p.m. on the day of a scheduled match.

ALL SALES ARE FINAL.