Tours
Please note that there will be no tours of the Davis Mansion from 3:00 - 4:00 pm on Saturday, October 22, due to a private event. Visitors are welcome to explore the Winmill Carriage Museum or Museum of Hounds & Hunting during this time. We apologize for any inconvenience.
Tours are currently available at the following times: 
Starting September 1, tours are available on Saturdays & Sundays, 12-5 pm. 
Mansion tours start every hour; Winmill Carriage Museum is self-guided.
Last tour starts at 4 p.m.
Tickets for the Mansion, Winmill Carriage Museum, and admission to the Museum of Hounds & Hunting are available in the Visitors Center on the north end of the Davis Mansion.
The museums are CLOSED during the month of January, Thanksgiving Day, Christmas Day, Christmas Eve, New Year's Eve, and New Year's Day.
Interested in group tours? Learn more here.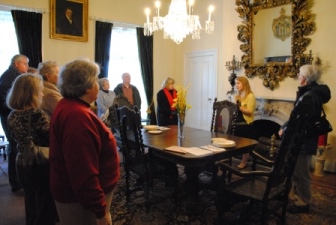 ---
Davis Mansion Tour (45 min.) and Winmill Carriage Museum (self-guided) 
Admission:
Adults $10
Children, ages 6-12, $5
Children, ages 5 and under, free
---
The Museum of Hounds & Hunting of North America (self-guided)
Admission is free. Please check in at the Davis Mansion Visitors Center.
---