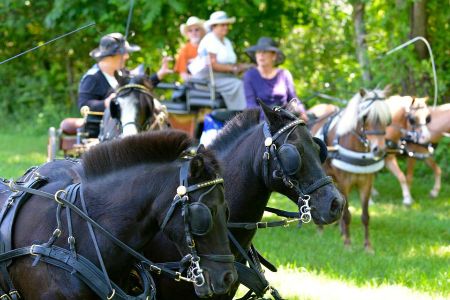 A weekend to celebrate the "red, white, and blue" will also present opportunities to win "blue, red, and yellow" … ribbons, that is. For the third year, Morven Park in Leesburg, Va., hosts its Carriage Pleasure Show & Drive over the Fourth of July weekend, July 4-5.
The spectator-friendly event is free to the public. Access is via the Route 15/Tutt Lane entrance.
The American Driving Society-recognized event is expected to draw as many as 50 carriage drivers from the eastern half of the United States. The classes will be judged by Jessica Axelsson of New Jersey and Billie Hill of New York.
On Saturday, drivers will compete in classes that include single, pair, or multiple horse-drawn carriages, and will face competition for driving skills and/or appearance. On Sunday, they will have the opportunity for a pleasure drive through Morven Park's 1,000 scenic acres, creating a not-to-be-missed step back in time.