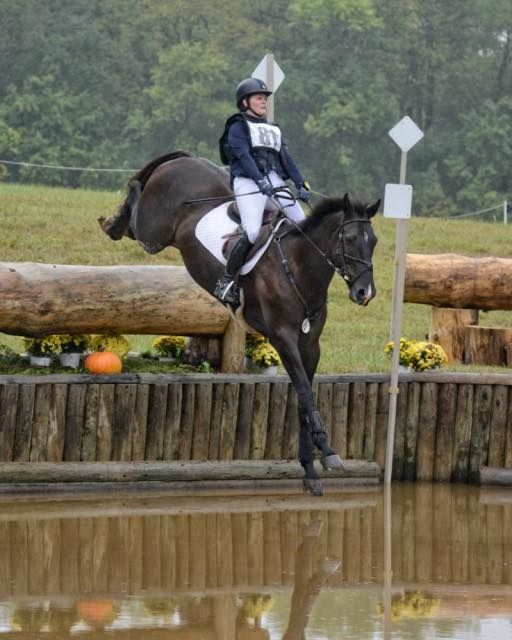 Morven Park's Fall International Horse Trials comes to a close
LEESBURG, VA – 322 riders competed in the Morven Park Fall International Horse Trials, held Sept. 30 through Oct. 2, and featuring the scenic and famous cross-country course of Morven Park in Leesburg, VA. This year marked the 40th anniversary of the event, where competitors gather for an equestrian discipline known as "eventing," in which each horse and rider combination must compete in dressage, show jumping, and cross-country. Counting riders, spectators and guests an estimated 1,000 people were in attendance.
The CIC*** winner was Olympic medalist Kim Severson on Cooley Cross Border, an Irish Sport Horse cross gelding owned by Kim Severson, Jackie Severson and the Cross Syndicate. The Intermediate divisions were won by Marilyn Little on RF Scandalous, who also took second in that division with RF Demeter, and Kaitlin Spurlock riding Cartender de Nyze. This was "Carrot's" first Intermediate win; he was imported from England as a showjumper last year.
The weekend's biggest smile may have been from Carina Erickson, who won the Junior Novice division with Drummer's Call, finishing on their dressage score of 21, in just their second event together. Erickson won the County Saddlery Low Score Award, which gives her the custom County saddle of her choice, provided by Morven Park International Fall Horse Trials sponsor County Saddlery. Hannah Sue Burnett was a close second in the low score category; Erickson beat the U.S. Team rider by only .6 point over Burnett's Open Training score of 21.6 with Christa Schmidt's Cougar Bay.
For a listing of all competitor results, visit www.evententries.com/livescoring/16326.html.
At this year's event, Novice through Advanced Horse Trials and CIC 1-star, 2-star and 3-star competitions were run and featured new cross country courses, a new water complex, and improved footing in the dressage arenas. One of the most celebrated features of the event was the cross country course. "Cross-country is the reason I participate in this sport," said trainer and competitor Christina McKitrick, "It is a rush like no other, especially when you get to ride on such beautiful and well maintained courses like they have at Morven Park."
Our thanks go out to all of the riders, trainers, sponsors and volunteers who braved the weather to produce another wonderful weekend of eventing at Morven Park.
Morven Park was once the home of Westmoreland Davis, governor of Virginia from 1918-1922. This 1,000-acre historic estate in Leesburg, Virginia attracts about 100,000 people each year, enticed by the site's exquisite scenery, historic gardens, equestrian center, sports fields, museum collections and hiking trails.
Morven Park is a nonprofit that relies on donations from friends like you. All donations directly fund our work in historic preservation; our world-class equestrian center; youth sports and athletics; and our unique civics education programming. Your gift is an investment in Morven Park's future, ensuring that generations to come will enjoy this vital public resource. Please donate today at www.MorvenPark.org.