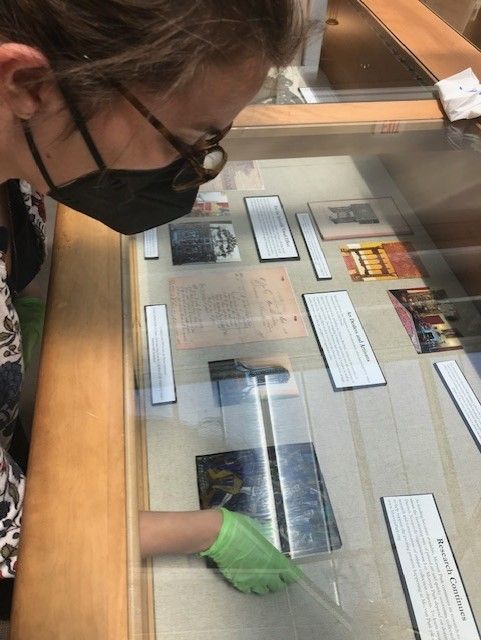 Morven Park's April exhibit at the Thomas Balch Library in Leesburg, entitled "Gallivanting Around the World: Trinkets and Souvenirs from the Morven Park Collection," explores how the Davises' eclectic décor and furnishings reflected the cultural attitudes of wealthy Americans during the last quarter of the 19th century.
The Davis mansion at Morven Park contains a diverse collection of art, furniture, and souvenirs gathered from Europe, North Africa, East Asia, and the Mediterranean region by Marguerite and Westmoreland Davis at the turn of the 20th century. The collection offers insight into the Davises' world travels. To help them plan their itineraries, Marguerite and her family appear to have preferred the popular Baedeker Guides, as over 40 of the comprehensive travel guides are held in the Morven Park Library. Inscriptions inside the books, written by Marguerite's mother or siblings, often provide the date of their visit.
While traveling, the Davises purchased everything from genuine antiquities to common souvenirs. To meet the demand of American visitors, souvenir shops around the world began creating and selling commercialized products that would appeal to tourists. For example, Japan's artisans sold clothing catered to western fashion tastes, western-style furniture with an Asian flair, and realistic carvings and paintings of favored Japanese subject matters. As a result, many casual collectors like the Davises furnished their homes with East Asian art designed for the American market, instead of authentic relics.
Coinciding with an expansion of travel, well-to-do Americans started to furnish their homes with aesthetically appealing antiquities. The goal was to achieve cultural rejuvenation inside the home to counteract the rapidly changing landscape of industrial America. The Davises often relied on art dealers such as the Duveen Brothers to broker the transfer of treasures from failing European estates into their possession. Marguerite also commissioned several Gothic Revival furniture pieces from Italian furniture maker Fratelli Mora.
Research into the fascinating collection at Morven Park is ongoing. In 2018, Morven Park engaged a subject matter expert to conduct research on Marguerite's Asian Art collection. We now know that the twenty objects composing this collection form two distinct groups: commercial craft art developed for the western market and traditional Buddhist relics.
As funding becomes available, Morven Park continues its research to learn more about the fascinating mix of prized art and quirky souvenirs collected by the Davises. Nonprofit organizations like Morven Park depend on donations to fund research and conservation of unique collection objects.
To support the exciting projects happening at Morven Park, please visit MorvenPark.org/DONATE.
Gallivanting Around the World: Trinkets and Souvenirs from the Morven Park Collection will be on display through April 29 and may be seen by appointment only on Tuesdays and Thursdays, from 10 a.m. to 12 p.m. or 1 to 3 p.m. Please call 703-737-7195, email balchlib@leesburgva.gov, or fill out an Appointment Request Form online