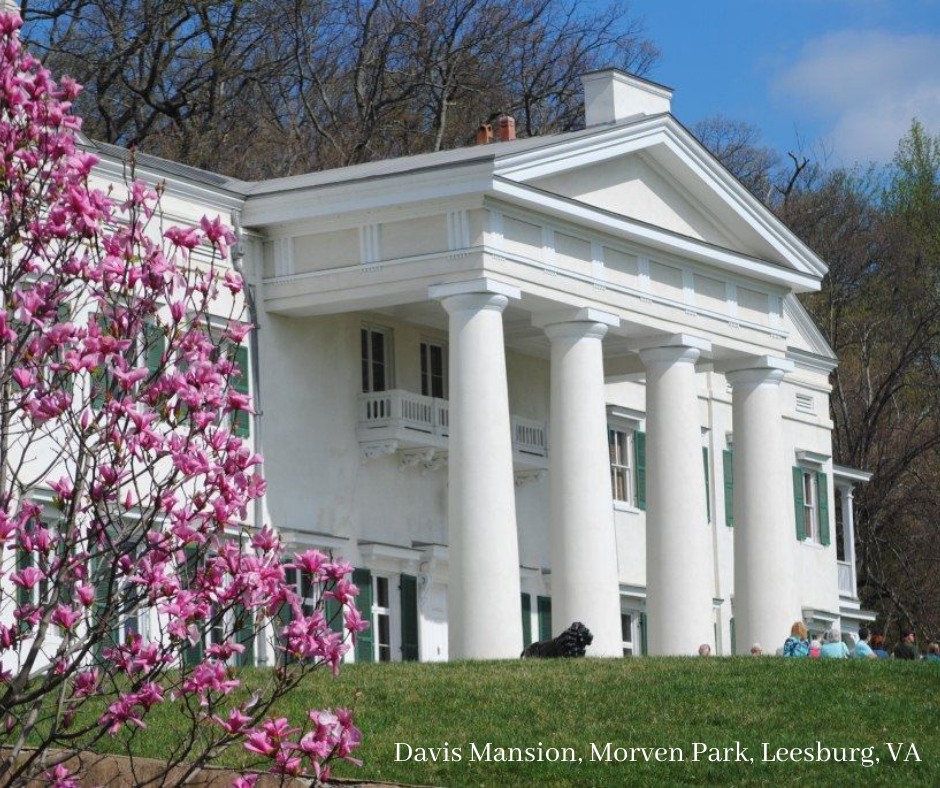 Morven Park is excited to announce that the Davis Mansion will re-open for tours starting Friday, June 18. After being halted for more than a year due to COVID-19 restrictions, the popular tours are resuming on Fridays, Saturdays, and Sundays through August 22. To safeguard the health of mansion visitors and Morven Park team members, tours will be smaller in size and face masks will be required.
"We're so pleased to open the Davis Mansion to the public just in time for summer," said Stacey Metcalfe, Morven Park's Executive Director/CEO. "Offering tours again is another step towards returning to pre-pandemic normalcy. We're looking forward to meeting summer tourists, and we're also eager to welcome back our Loudoun neighbors who have missed us this past year."
Advance online purchase of private 45-minute group tours is required for Friday dates, and is strongly encouraged for Saturdays and Sundays. The private tour rate is $40 per group (up to six visitors). Discounts are available to Morven Park Members.
Morven Park will also offer hourly tours of the Davis Mansion to walk-in visitors on Saturdays and Sundays from 12:00 p.m. to 5:00 p.m., with the last tour leaving the Visitor Center at 4:00 p.m. Tours will be available on a first come, first serve basis and will be limited to six guests at a time. Tickets are $10 for adults and $5 for children ages 6–12. 
To select a date and time for a private group tour, visit MorvenPark.org/Calendar. All tickets to tour the Davis Mansion include self-guided tour access to the Winmill Carriage Museum and the Museum of Hounds and Hunting of North America.
Guests touring the Davis Mansion will hear stories of the civic and social lives of former Virginia Governor Westmoreland Davis and his wife, Marguerite, during the first half of the 20th century. The Davises' personal items and extensive collection of arts and antiques acquired during their travels throughout the world are on display as guests pass through living areas that include a lavish entry hall, ornate drawing room, elaborate dining area, grand billiard room, and well-stocked library, as well as an expansive kitchen and charming personal quarters. After the mansion tour, visitors can discover the unique collection of horse-drawn vehicles housed in the Winmill Carriage Museum, plus the art, artifacts, and memorabilia of foxhunting found in the Museum of Hounds & Hunting.
Because the health and safety of Morven Park visitors and team members is a top priority, face masks will be required at all times while inside the mansion and museums. Masks are not required while enjoying Morven Park's historic landscapes, gardens and hiking trails.
About Morven Park 
Morven Park is Loudoun County's 1,000-acre backyard. Located in Leesburg, Virginia, the nonprofit Park welcomes 250,000 visitors each year who come to enjoy exquisite scenery, formal boxwood gardens, the Morven Park International Equestrian Center, the iconic Greek Revival mansion, museums, and hiking trails. For more information, or to support the Park, visit MorvenPark.org.