Interested in becoming an Equestrian Center sponsor?
Morven Park International Equestrian Center hosts year round equestrian activities and over 60 days of competition annually. Ranging from the enthusiastic beginner rider to the seasoned Olympian, we see 100,000+ equestrians at the Park, and opportunities for corporate sponsors to be a part of our exceptional events are virtually limitless. 

We appreciate your interest in supporting our Equestrian Center. If you have any questions about the ways you can reach your target equestrian demographic at Morven Park, please don't hesitate to get in touch with us at StrategicPartnerships@MorvenPark.org or call 703.777.2414, ext. 6616. 
---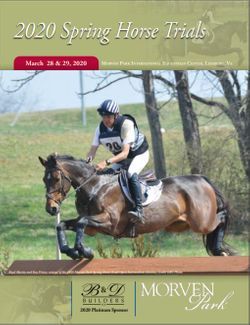 Show your support for Morven Park Horse Trials -  BECOME A PROGRAM SPONSOR TODAY!
$297 Sponsor Page = 8.5 x 11, color, full-page placement or $150 for a half-page acknowledgement
in the Fall Horse Trials programs
Sizing & Specifications:
Full page: 8.5"w x 11"h - include 1/8" beyond trim to accommodate for bleed
Half page:  7.5"w x 4.75"h - no bleed / Half Page with bleed: 8.5"w x 4.75" h - include 1/8" beyond trim to accommodate for bleed
Include crop marks on press ready PDFs
For safety - keep text within 1/4" of trim
Program trim size: 8.5"w x 11"h
All pages are full color and must be in high resolution PDF format
Artwork submitted in improper size or resolution will not be printed
Artwork should be sent to Shannon Ferguson (sferguson@morvenpark.org) no later than August 15
Cash/Check accepted, or CLICK HERE to pay online. If mailing payment, please remit to: Morven Park, P.O. BOX 6228, Leesburg, VA 20178
QUESTIONS? Email sferguson@morvenpark.org