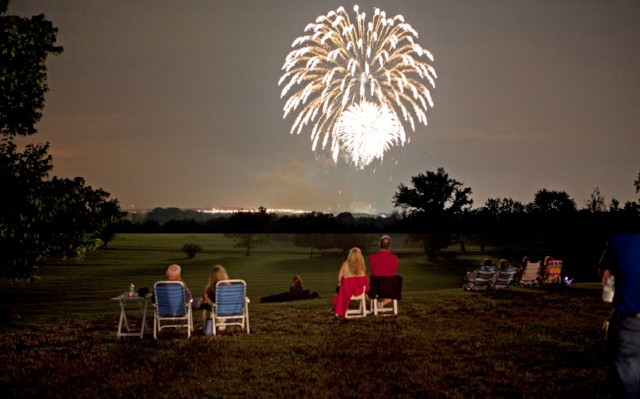 Gates open at 8:00 p.m. | Fireworks begin at 9:30 p.m.
Sparks at the Park is a family-friendly Fourth of July fireworks viewing held on the Davis Mansion Lawn. Members and special guests are invited to enjoy a spectacular and uncrowded view of the Town of Leesburg fireworks.
**PLEASE NOTE: All guests must use the entrance on Old Waterford Road. The gate at the Tutt Lane entrance (off of Route 15) will be locked.**
--Guests will be allowed to enter the Park starting at 8:00 p.m. AND one car per Park Member registered will be allowed entry.
--Parking will be in the Visitor Center Lot and the viewing party will be on the Davis Mansion lawn.
--Bring a blanket or lawn chairs and enjoy a stress-free 4th of July evening
--Take advantage of uncrowded views and ample parking.
--Picnics are encouraged and coolers (including adult beverages) are permitted.
--The Park will be closed to the public as this is a MEMBERS ONLY event.
--Pets, smoking, personal fireworks, and portable music speakers/devices are not permitted.
Questions? Email the Membership Office at Donate@MorvenPark.org
**This is an invitation-only event held for Morven Park members, donors, and special guests. The Park will be closed to the public during this event.**
Thank you for being a Park Member! Your support is appreciated!