Morven Park Weddings
Elopement Packages Now Offered at Morven Park!
Love in the time of COVID-19 can be challenging, but it shouldn't stop you from having the perfect wedding. Morven Park's lush gardens and grounds offer plenty of space for a memorable, socially distanced ceremony. CLICK HERE to learn more!
 While only 40 miles from the nation's capital, Morven Park seems a world away with its wrought iron garden gates, sweeping terrace views, and seemingly endless lush, green landscape.
Recently named one of "The South's Best Wedding Venues" by Southern Living magazine, Morven Park is a 1,000-acre historic estate and equestrian center nestled between the foothills of the Catoctin Ridge and the idyllic town of Leesburg, Virginia.
Morven Park provides a romantic backdrop for sophisticated weddings, vow renewals, commitment ceremonies, and celebrations of all sizes.  Here you'll find beautiful historic buildings, formal gardens brimming with magnolias, boxwoods and flowers, brick courtyards, a secluded reflecting pool, and expansive views overlooking vast green pastures. Of course our iconic mansion will stand as an elegant backdrop that creates an unforgettable, picture-perfect event. Venue options include:
Designed for romantics, the Magnolia Garden features a reflecting pool and clearing, perfect for intimate gatherings, tucked among the Park's historic boxwoods and flanked by ancient magnolia trees.
The black and white marble tile of the Mansion Portico, coupled with the sweeping view of Morven Park's 1,000 acres, makes this one of Northern Virginia's most sought-after ceremony locations. Your guests will be spellbound and your pictures will be spectacular.
The Coach House is reminiscent of Old Europe with stone walls, a clock tower, and a brick courtyard. This meticulously restored structure has retained its original charm and is perfect for elegant and unique wedding receptions featuring nature as a backdrop.
Dance the night away under a tent on the tree-lined, manicured Croquet Lawn at the center of our formal Colonial Revival boxwood gardens. The opulent space provides an elegant ambiance for refined and sophisticated outdoor celebrations.
---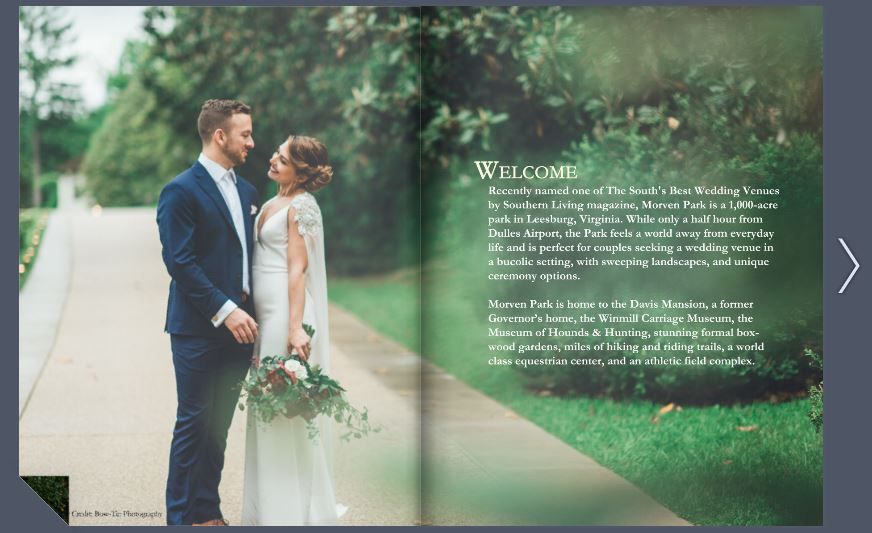 More information can be found in our 2020 Lookbook
featuring FAQs, pricing, preferred vendors, and pictures from weddings held at Morven Park.
CLICK HERE or on the image above to view our 2020 Lookbook. 
---
To learn more about Morven Park weddings, book a tour, or ask about a specific date, email Events@MorvenPark.org.