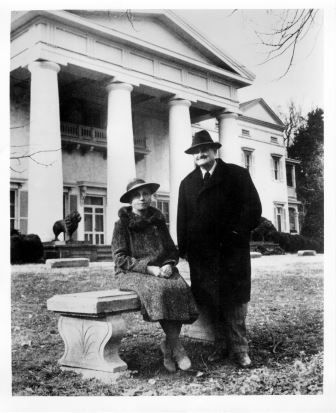 In October of 1967, the Westmoreland Davis Memorial Foundation opened Morven Park to the public. Established by Marguerite Davis in honor of her late husband, Westmoreland Davis, WDMF is dedicated to preserving the open space, historic buildings, and unique artifacts of Morven Park.
Marguerite and Westmoreland Davis, the last private owners of Morven Park, purchased the estate in 1903. Westmoreland Davis, already a successful attorney, established a livestock farm, raising dairy cattle, hogs, sheep, and poultry at Morven Park. His interest in helping other farmers in the commonwealth led to his election as Governor of Virginia in 1917. During Governor Davis's term in office (1918-1922), Marguerite volunteered in a munitions factory to support the World War I effort and then served as a nurse during 1918-1919 influenza pandemic. When they returned to Morven Park in 1922, Governor Davis continued managing his farm, turning his attention to raising turkeys, and Marguerite focused on the creation of her prized boxwood gardens. Following Governor Davis's death in 1942, Marguerite left Morven Park in the hands of a caretaker. In 1957, she established the non-profit Westmoreland Davis Memorial Foundation to manage and maintain Morven Park following her death.
Today, the Davis Mansion retains its early 20th century appearance, and each of the rooms explored during the tour contain the Davis's original furnishings and décor. Tours of the mansion not only introduce visitors to Governor and Mrs. Davis, but also explore the social and political themes that shaped life in Loudoun County, Virginia, during the first half of the 20th century.
Although the Davis Mansion represents the property's 20th century history, the Morven Park grounds and outbuildings embody a much longer and more complex narrative. From around 1800 until 1864, approximately 80 men, women, and children were enslaved at Morven Park. Research into the lives of these individuals is in progress with the goal of recognizing and honoring their experiences and contributions. As our review of historic documents and data advances, new information will continue to be shared with the public through our guided tours and other offerings. To learn more about these on-going efforts, CLICK HERE.
The WDMF board and team invite you to visit Morven Park to explore the expansive grounds and wooded ridge. To tour the Davis Mansion, or register for an upcoming history program, CLICK HERE.