Welcome to Morven Park
The Pedestrian Entrance to the Park on Old Waterford Road is open.
We recognize being outdoors in nature is a great way to get much-needed fresh air and exercise and have decided to allow limited access to Park grounds in the interest of public health. Morven Park gates and parking lots will remain closed due to the fact that we cannot regulate the number of vehicles/people visiting the Park at any given time and need to remain in compliance with the federal directive to discourage crowds and large groups from gathering. Please note, all restrooms and Park buildings remain closed.
Consider following Morven Park on Facebook for updates on our closure and event cancellations.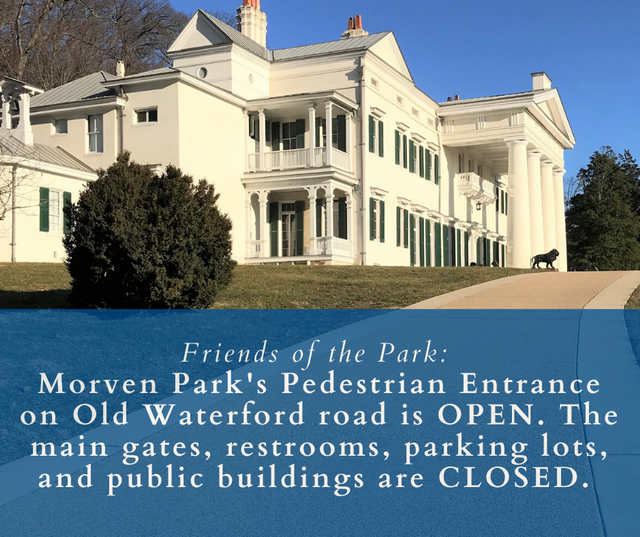 Please keep the safety and well-being of our visitors and staff in mind as you visit the Park grounds.
If you are sick and/or experiencing symptoms consistent with the COVID-19 infection, please refrain from entering the Park.
In accordance with current CDC recommendations, please limit the size of your group to 5 people or fewer.
Guests are strongly encouraged to follow social distancing guidelines by keeping a distance of 6 feet or more between you and other guests.
All restrooms and buildings are closed. Please avoid common areas and refrain from touching doorknobs, kiosks, etc.
Cover your mouth and nose with a tissue or your sleeve (not your hands) when coughing or sneezing and avoid touching your eyes, nose and mouth.
If you have questions or feedback, please email Marketing@MorvenPark.org.
While we can open this entrance, Morven Park's other entrances will remain closed and many Park events have been cancelled in response to the COVID-19 crisis. We ask you to remember that we are not a county or state funded Park with the same safety net and support system as other facilities. We need your support now more than ever to weather this storm. Morven Park is a nonprofit that relies on donations to remain open. Make a donation that will make a difference at MorvenPark.org/DonateNow.
---
Morven Park is a 1,000-acre historic estate in Leesburg, Virginia.
Owned and operated by a nonprofit organization, Morven Park relies on your donations to keep our gates open to the public year-round.
NOTICE: Dogs are always welcome at Morven Park, but we strictly enforce leash laws. Please do not allow your dog to run free anywhere on Morven Park's property. Dogs must be on a leash at all times and we ask that you clean up after your pet while on Park grounds. 
Blogs & Latest News
---
My very first voting experience was a memorable one because I turned 18 on a presidential election day and got to cast my vote on my birthday! I still remember carefully filling in each bubble on the ballot and proudly displaying my "I voted" sticker. I come from a long line of volunteer poll workers, including my father, my aunt and especially my grandmother. She was the daughter of Czechoslovakian immigrants who was born in August of 1920, days before the 19th amendment would be ratified by two thirds of the state legislatures and put into practice. She helped people complete their civic duty in her small town in Pennsylvania, fully understanding how important it was for everyone to use their own voice at each election. I haven't missed an election since I became eligible, and I think often about the women who fought for this fundamental right.
My grandfather was a magnificent gardener. He had an arbor that dripped with wisteria, under which I would enjoy delicious summer snacks and lemonade. His expansive vegetable garden and orchard ensured my grandmother was very busy during canning and jamming season. I have many fond memories of time spent there and often visited when I needed a quiet space to pause and reflect on some pressing issue. Consequently, I love gardens, not only because they remind me of my childhood and calm my senses, but also because I envy the talent of gardeners.
Lately I've been trying to figure out how I will decorate for the holidays, ruminating over which place settings to choose, and debating what colors I'll use for the tree. It was during a recent walk through the formal gardens here at Morven Park that I found all the inspiration I needed!
School is back in session and the Morven Park Center for Civic Impact (MPCCI) education team is eager to be back in the classroom, honoring the civic engagement legacy of Westmoreland and Marguerite Davis by providing free civics lessons that demonstrate the impact one individual can have on his/her community.
In addition to the classroom supplies found on a typical back-to-school list, Morven Park's list contains some rather unusual items.