Welcome to Morven Park
Morven Park is a 1,000-acre historic estate in Leesburg, Virginia. Owned and operated by a nonprofit organization, Morven Park relies on your donations to keep our gates open to the public year-round.
---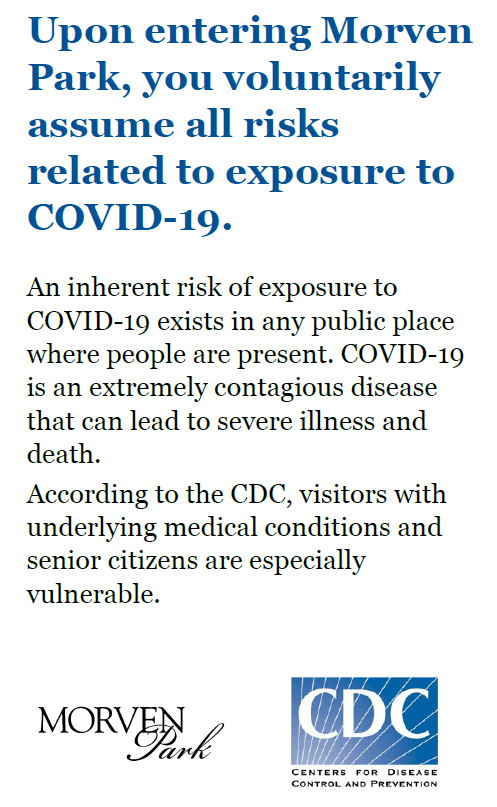 Morven Park's gardens and grounds are OPEN!
Morven Park is open to guests from 7:00 a.m. - 5:00 p.m. daily.
Please note, all Park buildings, museums, and restrooms remain closed.
Help us keep Morven Park safe! Please keep the safety and well-being of our visitors and staff in mind as you visit the Park grounds.
Pursuant to Executive Order 63, DO NOT visit the Park if you have a fever or symptoms of COVID-19, or known exposure to a COVID-19 case in the prior 14 days.
Face coverings help protect Park visitors staff and help to protect you too! The Virginia Department of Health recommends wearing a face covering and social distancing of at least 6 feet.
In accordance with current CDC recommendations, please limit the size of your group to 10 people or fewer.
Guests are strongly encouraged to follow social distancing guidelines by keeping a distance of 6 feet or more between you and other guests. Please DO NOT gather in groups.
All restrooms and buildings are closed. Please avoid common areas and refrain from touching doorknobs, kiosks, etc.
Cover your mouth and nose with a tissue or your sleeve (not your hands) when coughing or sneezing and avoid touching your eyes, nose and mouth. Plan to bring hand sanitizer for everyone in your party to utilize.   
Please use trash receptacles, so that staff does not have to come in contact with contaminated items that are not discarded properly. DO NOT LITTER!   
If you have questions or feedback, please email Marketing@MorvenPark.org.
Morven Park is not a county or state funded Park with the same safety net and support system as other facilities. We need your support now more than ever to weather this storm. Morven Park is a nonprofit that relies on donations to remain open. Make a donation that will make a difference at MorvenPark.org/DonateNow.
Consider following Morven Park on Facebook for updates on our closure and event cancellations.
---
NOTICE TO VISITORS: Dogs are always welcome at Morven Park, but we strictly enforce leash laws. Please do not allow your dog to run free anywhere on Morven Park's property. Dogs must be on a leash at all times and we ask that you clean up after your pet while on Park grounds. 
During your visit, photos and/or video of you may be taken for use in Morven Park marketing materials and/or distribution to media outlets for promotion. When you visit, you thereby irrevocably grant Morven Park, the photographer (his/her affiliates), licensees, agents and assigns, the unrestricted right to use your likeness (or the likeness of any minor in your care) in photographs and video, and to distribute such photographs and video for editorial, trade, advertising or other purposes in any manner or medium, whether now or hereafter devised, throughout the world in perpetuity.