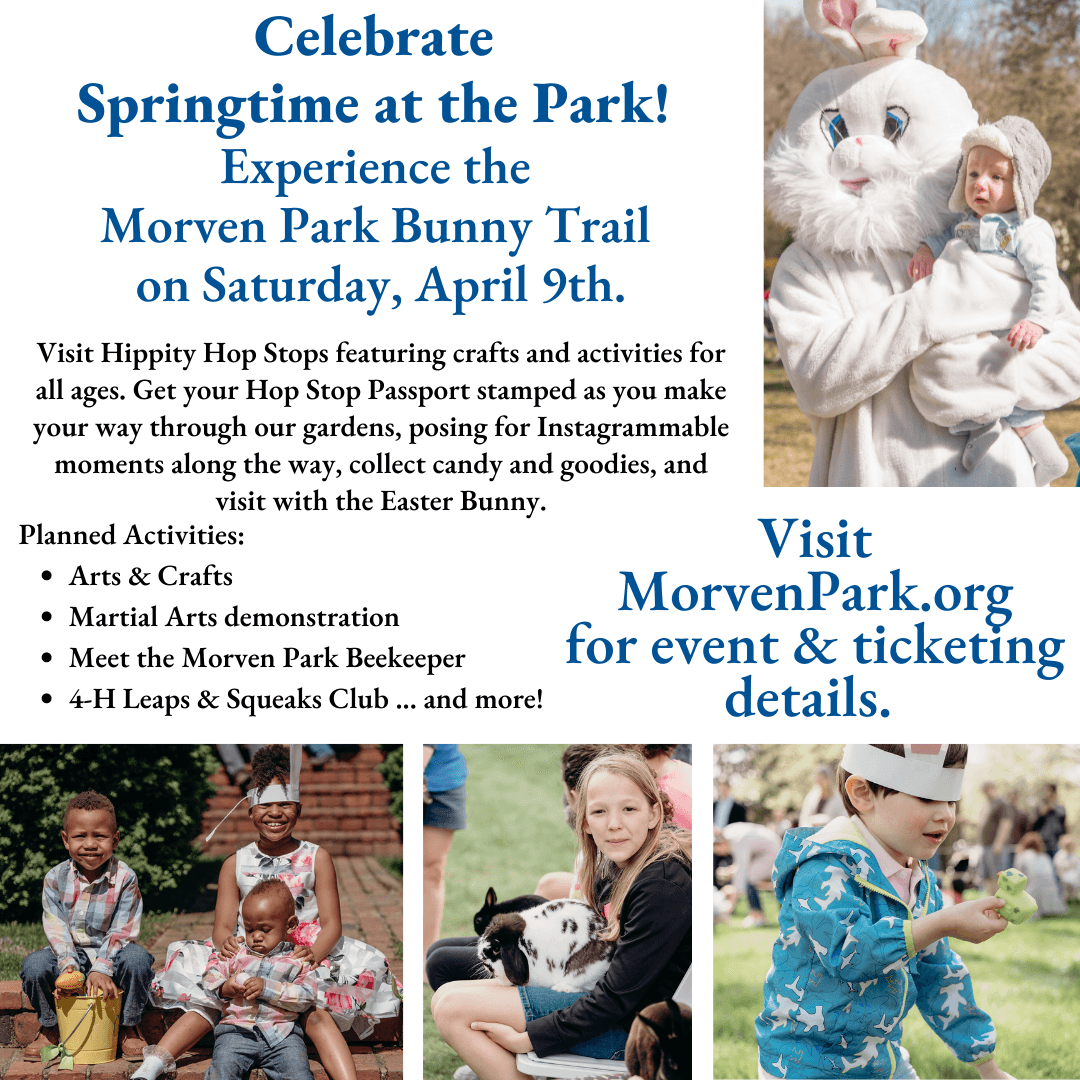 Morven Park Bunny Trail!
Celebrate the beginning of spring in the historic Morven Park gardens with games, crafts, and our popular egg roll down the Davis Mansion lawn. This year we're offering something better than a traditional egg hunt! We're setting up Hippity Hop Stops featuring crafts and activities for all ages. Get your Hop Stop Passport stamped as you make your way through our gardens, posing for Instagrammable moments along the way, and collect candy and goodies. Be sure to meet rabbits from the 4H Leaps and Squeaks Rabbit Club and take your own family photo with the Easter Bunny.
Planned Activities:
--Arts & Crafts
--Martial Arts demonstration
--Egg Roll on the Davis Mansion lawn
--Meet the Morven Park Beekeeper
--Davis Mansion sneak peek
--Meet & greet with a service dog
--Monarch Butterfly Fun
--4-H Leaps & Squeaks Club ... and more!
Registration is $10 per child (ages 2-12) and adults are FREE.
Early-bird registration opens for Morven Park Members on March 5th --> visit MorvenPark.org/Membership to join today.
Registration opens to the public on March 12th. Get tickets at https://bit.ly/MorvenParkBunnyTrail
PLEASE NOTE: This is a timed entry event. In order to help manage the size of this event and ensure a smooth registration process we ask that you please arrive at your designated ticket time.
**This event sells out and pre-registration is required to attend. There will be no "day of" ticket sales.**
_____________________________________________________________________
Items to consider before registering for this event:
--Children must be accompanied by an adult.
--The rain date for this event is Sunday, April 10th.
--ALL SALES ARE FINAL. Absolutely no refunds.
--Participating children will be given an assortment of candies, small toys and stickers that may not be appropriate for young children. Items could be a choking hazard and parents should exercise caution and examine items carefully.
--We will have a photographer at this event taking photos for Morven Park promotional use. By purchasing a ticket and partaking in the event/activities you are consenting to you/your party being photographed and consent to you/your party's photo/likeness being used, without compensation, by Morven Park for promotional purposes in any and all media.
QUESTIONS? Email us at Events@MorvenPark.org.