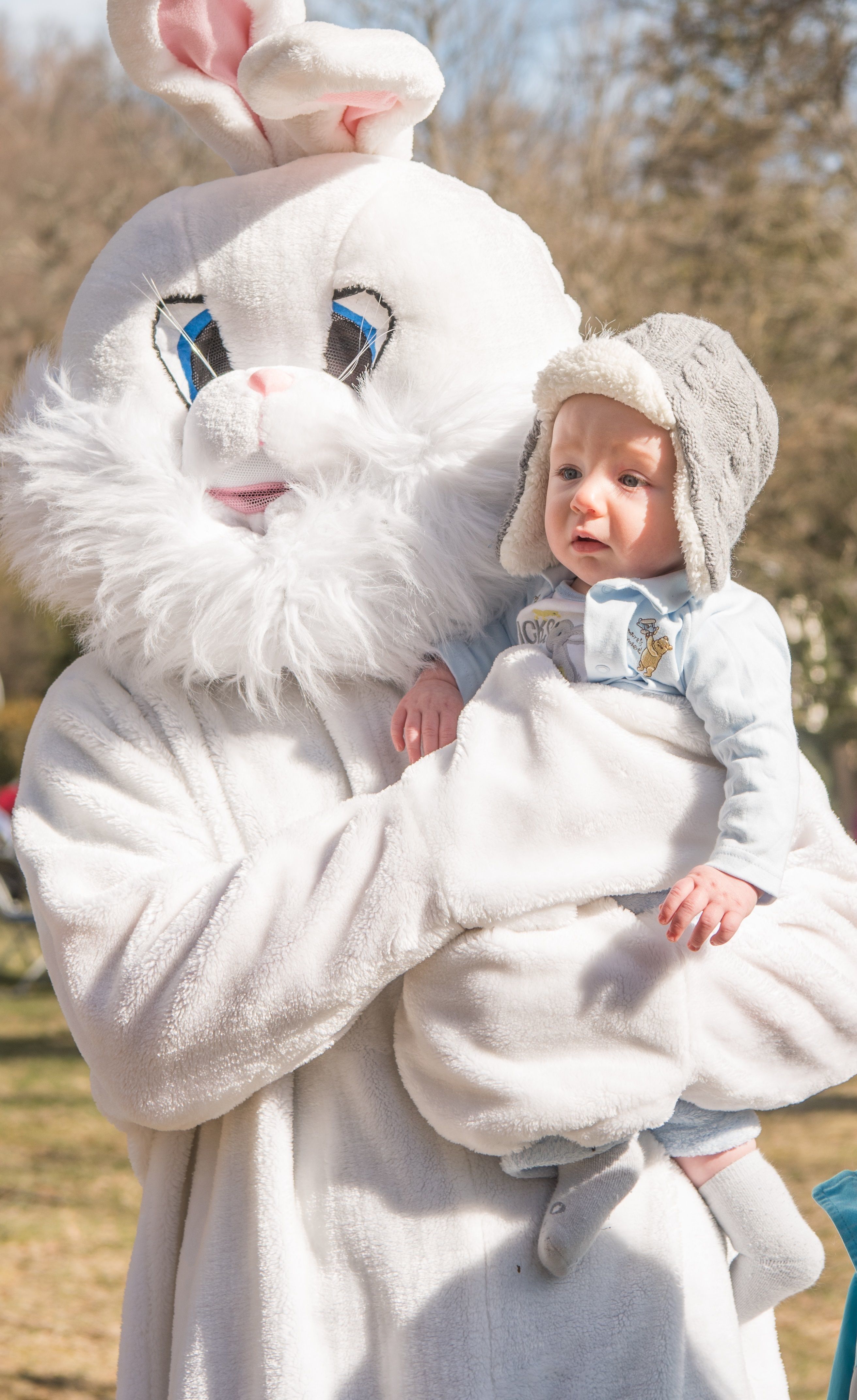 What does springtime 2022 mean to you? At Morven Park, it is always thrilling to see those first buds and blossoms that symbolize the end of another cold, dark winter. The advent of springtime also means that the Easter holiday is quickly approaching! Many of you likely have fond memories of fancy outfits and hats for Easter, family gatherings, the Easter eggs and bunny, and lots of chocolate and pastel-colored candy. You may even have your own family Easter dinner traditions to look forward to every springtime!
Because the past two years have been hard on all of us, we are beyond excited to invite you to enjoy some family fun at the park and create special new memories at Springtime at the Park: Morven Park Bunny Trail on Saturday, April 9th, from 10:00 a.m. to 1:00 p.m. New this year, our "Bunny Hop Stops" will offer a variety of fun activities for adults and children alike, and children can collect stamps on their Hop Stop Passports as they visit stations along the trail. Visitors will be able to take a delightful photo with the Easter Bunny, create adorable bunny ears, and play find-and-seek in the boxwood gardens. Animal lovers can pet fluffy, bunnies, pretend to be a magnificent butterfly, and learn about the importance of pollinators from the Morven Park Beekeeper and beehive of our resident bees. Of course, it would not be a springtime celebration without the classic Easter egg roll on the mansion lawn!
Classic American Easter Traditions: Origins of the Easter Egg Roll at the White House
Did you know that some historians credit First Lady Dolley Madison for proposing the first public Easter egg roll at the White House, while others say that it may date back to President Abraham Lincoln's administration? Beginning in the 1870s, Washingtonians celebrated Easter Monday by rolling brightly dyed Easter eggs down the terraced lawn and west grounds of the U.S. Capitol.
In 1878, after only a few years of egg rolling on the U.S. Capitol lawn, concern for the landscape around the building caused President Rutherford B. Hayes to move the event to the South Lawn of the White House instead - which had previously been reserved for the Presidential family's Easter activities exclusively. Well over a century later, this popular tradition of the Easter egg roll at the White House has carried on to this day!
1969 marked the origin of the Easter Bunny appearing at the White House on Easter Monday. For the very first time, the Easter Bunny arrived and shook children's hands all along the circular driveway on the South Lawn. In 1974, President Richard Nixon hosted the first official Easter egg roll races, now one of the most popular activities of the day. 1998 marked the first official internet broadcast of the egg roll festivities. Read more about the gradually evolving history of the White House egg roll.
"In this engraving dated April 23, 1887, children chase after Easter eggs during the annual White House Easter Egg Roll. The engraving was published in Frank Leslie's Illustrated Newspaper. Dating back to 1878, the Easter Egg Roll is a cherished springtime tradition in Washington, D.C., with children and their families gathering on the South Lawn to enjoy the annual festivities." - Library of Congress
The Easter egg roll tradition on the Davis Mansion lawn at Morven Park began in 2011. You can experience all the fun of Easter egg roll races right here in Loudoun County. We are indeed fortunate to have our own beautiful, gently sloping lawn in front of the Davis Mansion to enjoy this long standing springtime tradition with all of you!
Origin of Easter Bunny: Where Did He Come From?
How did the Easter Bunny become one of our most beloved Easter traditions? The Origin of Easter Bunny lore is thought to have come to the United States through German immigrants who told tales of a magical bunny who'd carry a basket and would leave candy, gifts or colored eggs for children who were good. Some children would build nests or leave out carrots to welcome the bunny. Through these tales the American version of the Easter Bunny was born.
Why Easter Bunny instead of Easter Chicken? After all, those cute, brown bunnies don't lay eggs. Writings from 8th Century England pagan Anglo-Saxons held feasts in April in honor of Eostre, the goddess of fertility and spring, whose symbol was the rabbit. Easter egg history is also rooted in the Christian tradition, eggs are symbols of new life or rebirth. When you pull all these traditions together, you find why Easter Bunny is the favored Easter mascot.
Will there be brown bunnies? What color are the eggs used in the Easter egg roll? What will the Easter bunny be wearing? Come discover these answers and more! We look forward to helping you create family memories at our Springtime at the Park: Morven Park Bunny Trail celebration. Pre-registration is required to attend, and this event sells out quickly! Purchase your tickets online at www.MorvenPark.org/Easter. (Please note there will be no "day of" ticket sales.)
See you at the Park!
At Morven Park you can explore our 1,000 acres or attend family friendly events, immerse yourself in history and civics, and discover world-class equestrian events. Find your happy place. Come play, learn, discover Morven Park.
Source: White House Easter Egg Roll - President's Park (White House) (U.S. National Park Service) (nps.gov)