Park Hours: Gates open at 8 a.m. and close nightly at 5 p.m.
The Davis Mansion, Museum of Hounds & Hunting and Winmill Carriage Museum are open from noon - 5:00 p.m. on Saturday and Sunday. Tours leave from the Mansion Visitor Center on the hour. Last tour leaves at 4:00 p.m.
CLICK HERE for mansion and museum hours and ticket information.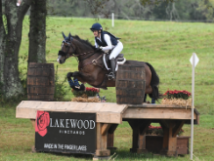 ---
For information on Morven Park Spring Horse Trials, CLICK HERE or visit MorvenPark.org/HorseTrials.
---
Welcome to Morven Park
Morven Park is located in Leesburg, Virginia, in the heart of Horse Country and just a short drive from Washington, D.C.  As our community has grown, Morven Park has become the "Central Park" of our region. Whether participating in our highly competitive equestrian events, touring our three museums, picnicking, hiking, playing on our athletic fields, or just absorbing the beauty of the woodlands, mountain ridge, historic buildings, and formal gardens, visitors who come here fall in love with Morven Park. As a nonprofit organization, we rely on your donations to preserve our historic and natural resources, and to keep our gates open to the public year-round.
Reminder:  Dogs are always welcome at Morven Park, but we strictly enforce leash laws. Please do not allow your dog to run free anywhere on Morven Park's property.  Dogs must be on a leash and attached to a human at all times. 
Click here for tour information. 
---