Spectators welcome!
2022 Tailgate Passes are available! Each pass includes:
Access for one vehicle to park on the cross-country course, surrounded by jumps for the best viewing of the CCI cross-country competition
Bring your own food and beverage or let our café cater for you
Spend a wonderful autumn day entertaining up to 12 friends, family, or clients at beautiful Morven Park
Tailgate space is for Saturday, October 8 for all of the CCI cross-country divisions
If you are interested in reserving a tailgate spot on the cross-country course, please email Events@MorvenPark.org for availability. 
---
Horse Trials are part of a sport called "eventing," which began more than a century ago among mounted cavalry officers as a demonstration of their horses' strengths and their own riding skills.
Eventing features three different equestrian disciplines: dressage, show jumping, and cross-country. Although the competition is divided into a number of skill levels, one of the remarkable things about the sport is that men and women of all ages compete head-to-head.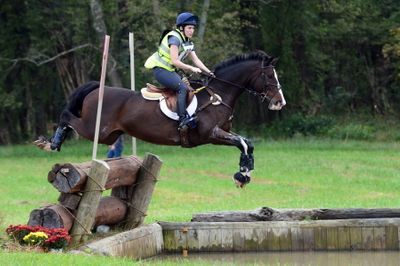 A Guide for Spectators
• Dressage •
The purpose of the dressage test is to demonstrate the level of communication between the horse and rider and to display power and grace as well as balance, rhythm, and suppleness. Especially during dressage, horses can be easily distracted or frightened; even the movement of an umbrella, a jacket, or a plastic bag can affect a performance.
The judge will signal to the rider when he or she is ready for the test to begin. Please hold your applause until you see the rider make a final halt and salute to the judge.
Best Vantage Point
Bleachers are available, but anywhere outside the fence is permitted as long as you stay a few feet away and do not block the performers' entry and exit points.
• Show Jumping •
Most tests include between 12 and 15 jumps, with rails that can be easily knocked down. Horses may touch a rail without penalty, but if the rail falls, or if the horse refuses to jump, the rider earns four penalties. Depending on the level of competition, horses may be eliminated for two or more refusals, and if any rider falls, they are immediately eliminated.
Best Vantage Point
Anywhere outside the fence is permitted as long as you stay a few feet away and do not block the competitors' entry and exit points.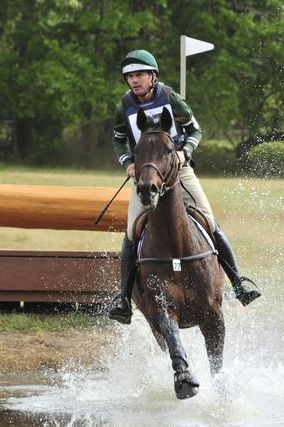 • Cross-Country •
The cross-country test is to prove the speed, endurance, and jumping ability of the horse over varied terrain and obstacles. The cross-country course covers approximately 2.75 to 4 miles, along which sit 24-36 fixed and solid obstacles. This phase is ridden at a gallop, with exact speed requirements depending on the level of competition.
Water jumps are particularly fun to watch, and if you position yourself well, you should be able to see a water jump as well as two, three, or even more obstacles, all from the same viewing area.
It's safest to enter the cross-country course at the beginning of the competition or during breaks between different levels of competition. Listen for the announcer to indicate those breaks. Normally, there will be only a couple of riders on the course at a time, so once you've seen a rider pass, you can quickly cross the galloping lanes and find a spot from which you safely can watch. If you see a horse approaching and you believe you might be in the way, stand very still since any sudden movement could startle the horse.
Riders can be eliminated if you offer them any assistance, but if a rider or horse part company and you're comfortable around horses, you are permitted to help catch the horse.
Best Vantage Point
There are jump judges and stewards throughout the course, and they'll gladly direct you to the safest spots for ideal viewing.
Special thanks to the United States Eventing Association for information used in this guide.