Morven Park's Davis Manion is OPEN!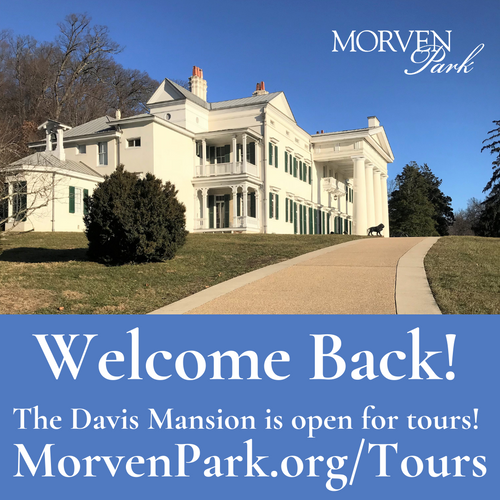 Morven Park is excited to announce that the Davis Mansion has reopened for the summer!!! Guests touring the Davis Mansion will hear stories of the civic and social lives of former Virginia Governor Westmoreland Davis and his wife, Marguerite, during the first half of the 20th century. The Davises' personal items and extensive collection of arts and antiques acquired during their travels throughout the world are on display as guests pass through living areas that include a lavish entry hall, ornate drawing room, elaborate dining area, grand billiard room, and well-stocked library, as well as an expansive kitchen and charming personal quarters. 
The popular tours are resuming on Fridays, Saturdays, and Sundays through August 22.
Advance online purchase of private 45-minute group tours is required for Friday dates, and is strongly encouraged for Saturdays and Sundays.
The private tour rate is $40 per group (up to six visitors). 
Discounts are available to Morven Park Members.
All tickets to tour the Davis Mansion include self-guided tour access to the Winmill Carriage Museum and the Museum of Hounds and Hunting of North America.
To safeguard the health of mansion visitors and Morven Park team members, tours will be smaller in size and face masks will be required.
Morven Park will also offer hourly tours of the Davis Mansion to walk-in visitors on Saturdays and Sundays from 12:00 p.m. to 5:00 p.m., with the last tour leaving the Visitor Center at 4:00 p.m. Tours will be available on a first come, first serve basis and will be limited to six guests at a time. Tickets are $10 for adults and $5 for children ages 6–12. 
PARKING: Visitors must park at the main lot at the intersection of Southern Planter Lane and Governor Davis Lane.  Enjoy a 5-10-minute stroll through the historic gardens to reach the Davis Mansion Visitor Center. Handicap parking is available closer to the mansion for all vehicles with handicap permits. 
---
Morven Park's grounds are open to the public 365 days a year.  The Museums are CLOSED on Thanksgiving Day, Christmas Eve, Christmas Day, New Year's Eve and New Year's Day, and during the months of January and February.