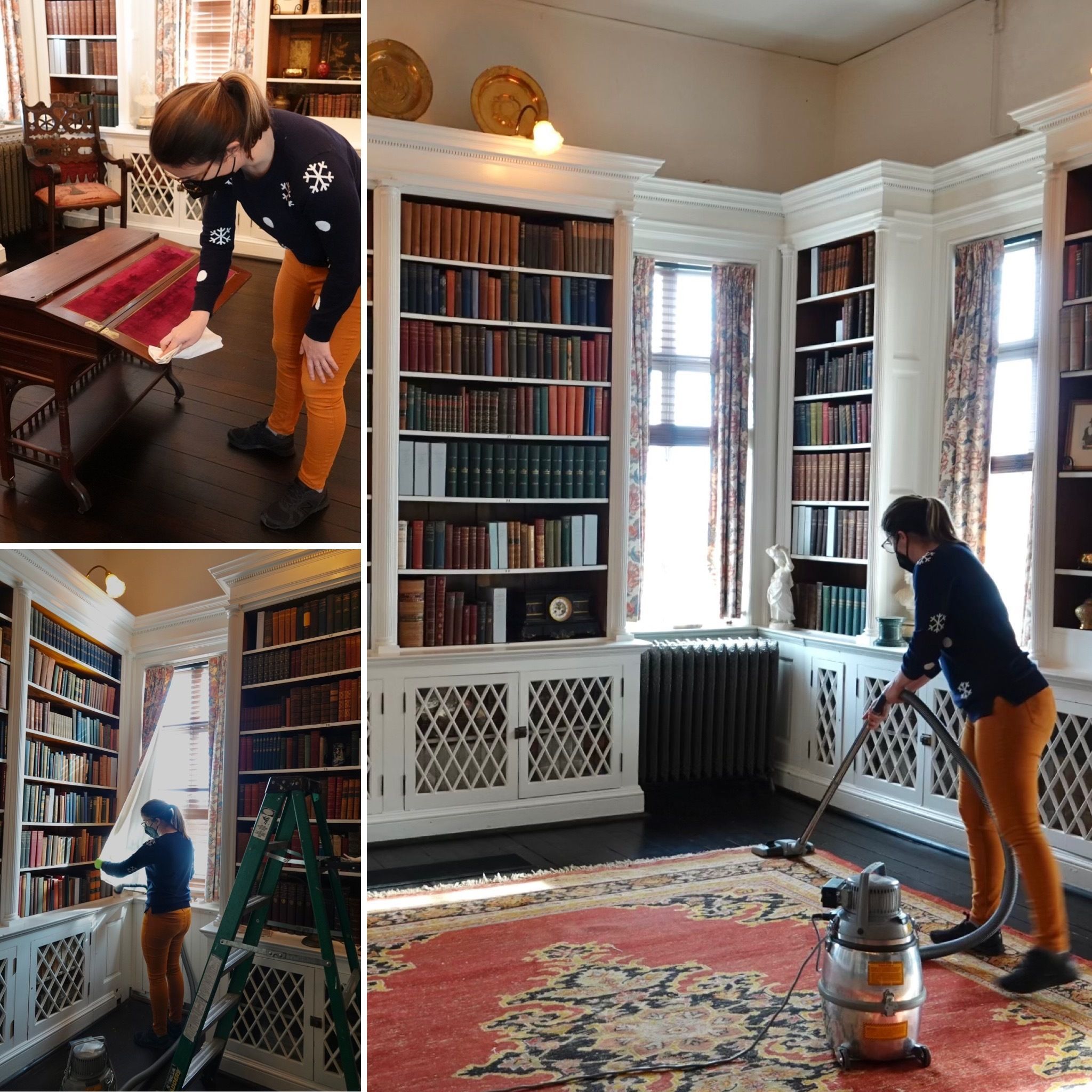 The Davis Mansion Deep Clean is a two-month process during which the Morven Park preservation team takes the time to break down the exhibit spaces and clean in areas that are not easily accessible throughout the rest of the year. Furniture is shifted, rugs are rolled up, and ladders are brought in so the entire space can be cleaned from top to bottom. Morven Park's collections manager, Anna Carneal, oversees this important endeavor from start to finish, so we asked her to answer some FAQs about her work while the mansion is closed to the public. 
Is cleaning chandeliers around the Davis Mansion difficult?  
No, cleaning chandeliers is surprisingly easy! To ensure that our chandeliers are sparkle, we use a very simple method that doesn't require taking down every individual crystal to polish them. Hagerty's Chandelier Cleaner is a highly effective spray that cleans as it drip-dries. With the chandelier lights turned off, we thoroughly apply the solution to each fixture and let it dry overnight. We then repeat the process to take care of any spots missed during the first round of chandelier cleaning. 
How should vintage oriental rugs be cleaned? Do you use an oriental rug cleaning company?  
Sadly, our oriental rugs are too delicate for shampooing (which is how many oriental rugs are cleaned). During the Deep Clean, we use a commercial-grade museum vacuum with a HEPA filter to lift dirt and debris from each rug. The rugs are flipped to ensure every square inch is vacuumed, and then rotated for even wear. If there is a need for specialized cleaning or repairs, we would bring in a textile conservator. 
Fun fact about vintage oriental rugs:  
The term "oriental rug" is used to cover a wide variety of woven rugs and carpets made in western and central Asia, North Africa, and the Caucasus region of Europe. Some rugs and runners in the Davises' extensive collection have been identified as Turkish, Persian, and Indian. 
Silver cleaning can be tedious. How many pieces of silver are cleaned in the Davis Mansion, and is there an optimal way to clean antique silver? 
Silver cleaning does take up quite a bit of our time during the Deep Clean. Fortunately, the preservation team includes an amazing group of volunteers who step in to help with this task. However, our collection comprises over 300 silver objects, and there is not enough time to clean each one every year. Those that are not currently on display are stored in the Davises' silver safe and are cleaned on an "as needed" basis.  
Silver oxidizes quickly when handled frequently and exposed to oxygen, so storing the clean antique silver in cloth bags within the safe slows down the oxidation process. The collection items on display are polished every other year.  
This year, we polished the trophies in the Billiards Room and the silver pieces in Westmoreland and Marguerite's bedrooms. Next year, we will clean the silver pieces on the credenza in the Dining Room. 
​Does Morven Park launder their vintage linens in-house or are they sent to a dry-cleaning service?  
The antique or vintage linens in our collection are never washed. Just like the rugs, we gently vacuum them and then call on the expertise of a textile conservator if they require more attention. However, Morven Park uses modern linens under the original bedspreads in Governor and Mrs. Davis' rooms. Those linens are washed in-house with a gentle, fragrance-free detergent. Scented laundry detergents can attract unwanted pests such as carpet beetles and clothes moths who like to feed on natural fibers. 
---
Now that Morven Park's annual Deep Clean has been completed, we are excited to announce that the Davis Mansion and Winmill Carriage Museum are once again open for tours four days a week (Friday-Monday). Please visit our website for tour hours and ticketing information. 
Visit our Facebook page to see photos of our conservation in action in the heart of Leesburg, Virginia. At Morven Park you can explore our 1,000 acres or attend family friendly events, immerse yourself in history and civics, and discover world-class equestrian events. Find your happy place. Come play, learn, discover Morven Park.